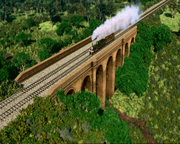 The Viaduct has appeared in the television series such as when Gordon lost his dome in 1958. It was repaired in Better Late Than Never in 1986. The viaduct is located west of Cronk, it goes over theHawin Ab.
It is not to be confused with The Big Dipper or the viaduct mentioned inHaunted Henry.
Trivia
Gallery
Ad blocker interference detected!
Wikia is a free-to-use site that makes money from advertising. We have a modified experience for viewers using ad blockers

Wikia is not accessible if you've made further modifications. Remove the custom ad blocker rule(s) and the page will load as expected.