Welcome to the Thomas the Tank Engine and Friends: The CGI Series Wikia!
Thomas the Tank Engine and Friends is a British children's television series, which had its first broadcast on the ITV network on 4 September 1984 and airs on PBS Kids in the US. It is based on The Railway Series of books by the Reverend Wilbert Awdry and his son, Christopher Awdry. It airs in several different countries since it began filming. Our Wikia has over
169
articles about
Thomas the Tank Engine: The CGI Series
and the CGI Thomas related subjects. This includes the Engines, Episodes, Merchandise and Books.
About • Community • Tutorial • Help pages • Stub pages
Webmaster's Message:
"I extend my warm greetings to the user of this wiki, your guide to the series throughout the year. Daily it offers to you facts about Thomas and Friends, following, as were, the flow of the season. It is a good thing to have something like this handy so that each day we might find a spare time and there we may learn something new about the series. There is so much Thomas material to keep track of and I am trying to keep things consistent, so it is great to have a way to search past stories or character facts and history May you continue to discover the depths of the series through this wiki which we share and write here in this wiki."
— SilverWing17, current webmaster.
Watch the latest episode of Thomas and Friends Season 17. The Frozen Turntable!

Template:Steam Team Template:New Characters Template:Returning Characters
Wiki Anthem 10pxe/t8EMx7Y16Vo1
Featured Article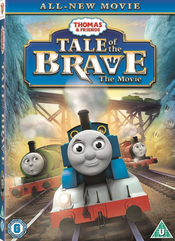 Warning! This page contains MAJOR spoilers. Caution is advised.
Tale of the Brave is a special slated for release in 2014. When Thomas spots some giant footprints his friend Percy quickly becomes convinced that there is a monster on the island. When an unusual engine, with sloping boilers, first appears, Percy believes he must be the monster but the new engine proves to be a good friend and ally. He even helps Percy discover what it really means to be brave.
Read more...